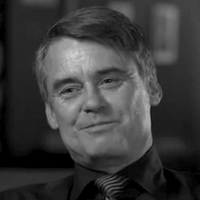 ---
---
Services:
35 years from the Olympics in 1996 to the iPhone, McDonalds to now with Coke and BT.

Previously worked with Virgin and TARBS as an Expert Witness.

Free brief 2-4 hours.
---
Qualifications:

Disruptive technology - Napster & MP3 to iPod, Bitorens to NetFlix, BlockChain to www4..

---
Experience:
Information Technology has been my calling since the first IBM Personal Computer in 1981 to the Olympics in Sydney where technology had to be delivered on time all the time. Now we live in a world where the Internet, BlockChain, Cloud, speech recognition, Artificial Intelligence and BIG Data are an integral part of everybody, every business and every government's success. I founded Offis in 1997 with a vision to build secure Enterprise-Grade Cloud services for customers who have now included the likes of: NBN, Vodafone, TABCorp, IBM, RSA, Bunnings, Optus, Macquarie Bank, Secure Parking, OzForex, Pepper and McDonald's.

I have always been recognized as a visionary thinker and my goal has been to keep ahead of technology as it changes the paradigm for government, businesses and people alike. I believe the power of computers will surpass the capacities of the human brain by 2020 and Artificial Intelligence (AI) will become the norm by 2025 = Google, Apple & IBM. Specialties include: BlockChain, Cloud, BIG Data, Agile CI/CD, Professional Services, IaaS, PaaS, AI and lastly but most importantly SECURITY.

+ More
---
Categories:
Business Continuity Plans and Training , Computers , Computer Forensics(Hot Systems) , Computer/Software Failure , Data-Communications , Decryption , Digital Discovery , E-commerce , Expert Security , Information System Security , Information Technology , Internet Technology , Security , Security Expert , Software IP , Technology , Computer Evidence , Computer Investigations/Forensics , Computer Network Forensics , Computing , Information Technology & Telecommunications , Voip , Computer Graphics , Cybercrime , Digital Broadcasting & TV , Internet Website Disputes , Info & Communications Technology , Software Contracts Disputes & Litigation , Software Copyright/IP/Patents/Trade Secrets , Computer Applications , Software And Systems , ICT Disputes , Intrusion Detection Systems , Digital Assets , Computer Networking , BlockChain , CryptoCurrencies , Cloud, AI , Big Data
---
Gallery is empty