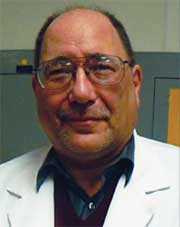 ---
Available Globally
Contact:
20938 De Mina St
Woodland Hills, CA, 91364
USA
Tel: 818.703.7147 Fax: (818) 703-7147
---
Services:
Jeffrey Nelken, BS, MA, has extensive training, working for both plaintiffs and defendants. He is an experienced food safety and accident prevention expert. As an expert witness, he offers unbiased opinions, reports, testimony and consultation with over 35 years experience in the hospitality and food industry.

He specialises in cases of negligence with regard to cases of illness, disability or even death.

His Food Safety and Accident Cases Have Included:

- Standards of Care
- Health Department
Inspection Analysis
- Foreign Objects
- Foodborne Illness
- Sushi
- Equipment related issues
- Salmonella/Reiter's
Disease
- Production and Processing
Accidents
- E.coli 0157, Norovirus,
Listeria, Campylobacter
- Bums, FOH and BOH
- Slips, Trips and Falls
- Food Allergies
- ADA
- Policy and Procedures
issues
- Good Manufacturing
Practices
- Intentional/Accidental
Contamination
- Training
- Pest Control issues
- Mock Health Dept. and Third Party Audits (Gmp's, SOP's and Recall)
- Validation of Sanitation and Cleaning Programs
- Allergy Program Review for Restaurants

Personalized training posters to support your SOP's and allergy program
+ More
---
Qualifications:
Jeffrey Nelken, B.S., MA. Degrees/licenses: B.S., - Food Science Management - Pratt Inst. M.A., Restaurant Management -NYU. National Registry of Food Safety Professionals instructor, HACCP Alliance Certified Manager, Certified Training Provider - #15 LA County Health Dept.; Certified Master Allergy Trainer
---
Experience:
Over 40 years' experience in restaurant, health care and hospitality industry. Litigation support & expert witness services for: food safety, HACCP, food borne illness, Quality Assurance in restaurants, country clubs, schools, supermarkets, casinos and food manufacturers. Food Safety Expert for CNN, CBS, NBC and Coast to Coast with George Noory.
---
Categories:
Chemical Safety , Food Safety , Hotel/Resort/Restaurant Management , Restaurants , Restaurants and Hotels , Restaurant Safety , Allergy , Health and Safety , Health and Safety , Burns , Burns - Hand , Health Dept. , Accident Analysis , Burns - Scalds
---
Gallery is empty


Food Safety Article


C.V.


Latest Details


Flyer